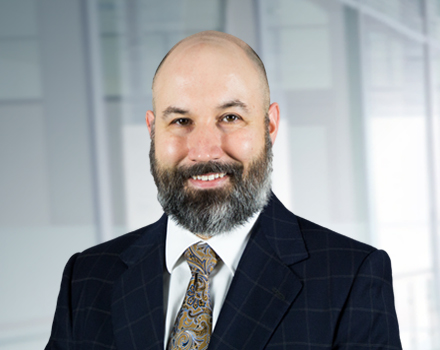 Ohio
U.S. District Court for the S.D. Ohio
University of Cincinnati College of Law, J.D. 2009
Miami University, Oxford Ohio, B.Phil., 2004
James A. Tate represents clients in complex litigation with a particular focus in representing whistleblowers under the False Claims Act. He also represents clients in tort and contract matters. He has successfully litigated False Claims Act cases in district and appellate courts across the country, representing whistleblowers who have uncovered fraud schemes perpetrated by some of the largest corporations. In this role, he second chaired a False Claims Act case which recovered $25 million for the taxpayers, several other False Claims Act cases which have returned millions to the taxpayers, and a major products liability case against a foreign manufacturer.
James is a contributor to James B. Helmer, Jr.'s False Claims Act treatise, and lectures on the Act. He is a barrister member of the Potter Stewart Inn of Court.
James is a graduate of the University of Cincinnati College of law, where he served as the Editor-in-Chief of the University of Cincinnati Law Review for 2008–2009 , and as an Articles Editor on the Human Rights Quarterly, 2007–2008. While in school, James also founded the U.C. Law student chapter of the ACLU, and worked as an extern for United States Senior District Judge Herman J. Weber of the Southern District of Ohio.
James is a 2009 recipient of the James B. Helmer, Jr. University of Cincinnati Law Review Prize as the most valuable member of the Cincinnati Law Review. In 2008 he authored "Eliminating the Nexus Obstacle to the Prosecution of International Drug Traffickers on the High Seas" which was published in the Cincinnati Law Review, 77 U. Cin. L. Rev. 267 (2008).
Firm listed in U.S. News Best Lawyers "Best Law Firms" 2011-2017 under categories of Commercial Litigation, Employment Law (Individuals), and Litigation (Eminent Domain & Condemnation)
2009 recipient of the James B. Helmer, Jr. University of Cincinnati Law Review Prize as the most valuable member of the Cincinnati Law
United States ex rel. Magee v. Lockheed Martin Corp. (S.D. Miss.)(Navy Supercomputers)
Herschel Moore v. Sterling Enterprises, Inc., et al. (Gallatin Co. Cir. Ct. Ky.)(Personal Injury)
United States ex rel. Pogue v. American Health Corp., (M.D. Tenn., D.D.C., 6th Cir.)(Kickbacks)
U.S. ex rel. Yarberry v. Sears and Kmart (S.D. Ill.)(Medicare Fraud)