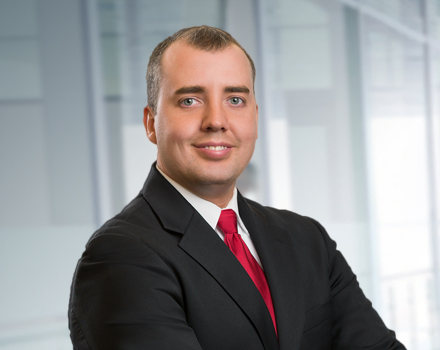 Ohio
Air Force Court of Criminal Appeals
United States Court of Appeals for the Armed Forces
University of Cincinnati College of Law, Summa Cum Laude, Order of the Coif, J.D., 2013
University of Cincinnati McMicken College of Arts and Sciences, Magna Cum Laude, Departmental Honors, International Affairs & Asian Studies (with Certificates in Middle Eastern Studies and Arabic Language and Culture), B.A., 2010
B. Nathaniel Garrett is a committed and result-driven professional whose goal is to provide exceptional legal representation. A proud Cincinnatian, Mr. Garrett graduated magna cum laude and with honors from the University of Cincinnati McMicken College of Arts and Sciences. He earned his law degree summa cum laude and Order of the Coif from the University of Cincinnati College of Law.
During law school, Mr. Garrett was Editor-in-Chief of the Law Review and led the creation of the UC Law Review blog. He authored two articles published in the journal, including "Dodd-Frank's Whistleblower Provision Fails to Go Far Enough: Making the Case for a Qui Tam Provision in a Revised Foreign Corrupt Practices Act" 81 U. Cin. L. Rev. 765 (2012). He served as a judicial extern to the Honorable Michael R. Barrett of the U.S. District Court for the Southern District of Ohio, a legal extern to the U.S. Attorney's Office for the Southern District of Ohio, and a law clerk for GE Aviation.
Mr. Garrett received numerous accolades during his time as a student, including the Dean's Honors List, John R. Sayler Prize in Evidence, Sidney G. Stricker Prize, Ernest Karam Book Award, George A. Dornette Professional Responsibility/Ethics Award, Judge William H. Lueders Prize in Wills, Trusts, & Future Interests, Eugene M. Corbin Prize, George C. Katsanis Memorial Scholarship, and the James B. Helmer, Jr. Law Review Prize.
Mr. Garrett is a U.S. Air Force veteran. He served four years on active duty in the Judge Advocate General's ("JAG") Corps as a prosecutor and criminal defense attorney. In addition to his JAG responsibilities, Mr. Garrett was appointed as a Special Assistant U.S. Attorney for the District of Colorado from 2014-2017. He prosecuted civilians for misdemeanor and petty offenses committed within the exclusive federal jurisdiction of Buckley Air Force Base, Colorado. In January 2017, he deployed to Al Udeid Air Base, Qatar in support of Operations Inherent Resolve and Freedom's Sentinel. While deployed, Captain Garrett was the principal adviser to the one-star general in charge of the base and all subordinate commanders for all criminal, disciplinary, and force management matters.
Dodd-Frank's Whistleblower Provision Fails to Go Far Enough: Making the Case for A Qui Tam Provision in a Revised Foreign Corrupt Practices Act, 81 U. Cin. L. Rev. 765 (2012)
Taming the Wild Wild Web: Twenty-First Century Prize Law and Privateers as a Solution to Combating Cyber-Attacks, 81 U. Cin. L. Rev. 683 (2012)